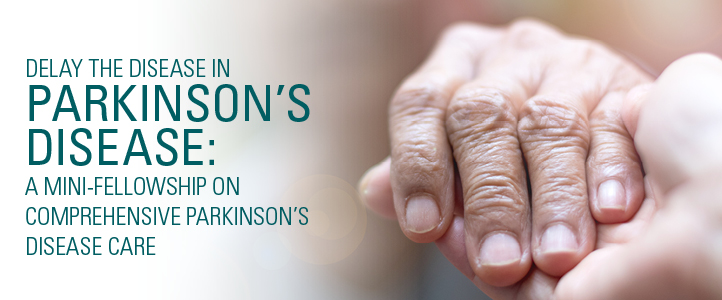 This mini-fellowship, prepared and curated by Movement Disorder's Fellowship-trained neurologists, aims to improve neurological care for patients with Parkinson's Disease (PD). The course is designed to reach health care providers through online distance learning. The course will also have an optional component that will blend clinical practice learning and assessment with an online/on-demand component.
TARGET AUDIENCE
This mini-fellowship is intended for primary care physicians; advanced practice providers; nurses and nurse case managers; physical, occupational and speech therapists; dietitians; pharmacists; professional counselors; social workers; and other health care providers interested in expanding their knowledge of providing care for those with PD.
LEARNING OBJECTIVES
At the conclusion of this course, the participant should be better able to:
Recognize various common presentations of PD for early diagnosis and identification
Describe the basic pathophysiology of PD as it relates to early presentations and difficulty in diagnosis
Discuss the role of exercise and therapies (physical, occupational, speech, nutrition) in PD as a "delay the disease" approach
State the importance and role of nutrition and diet in PD
Describe principles of medical management of early stages of PD
Discuss the management of moderate to advanced stages of PD
State the significant non-motor complications of PD
Describe the presentation and management of dementia and psychosis in PD
Explain advanced therapy options in PD management including deep brain stimulation surgery
Recognize the ongoing research focusing on disease modification strategies in PD
OPTIONS FOR PARTICIPATION
Choose ONE of the following options to participate in this mini-fellowship:
A. Live Zoom Lecture Series
This track includes 10 one-hour lecture sessions via Zoom held Wednesdays from September 1 to November 17, 2021, from 12-1 pm US Central Time.
Download schedule and continuing education information
You may attend ONE or ALL of the LIVE Zoom sessions which will include the expert presentation and live question/interaction portion. To receive continuing education credit, you will have to complete the online evaluation after each session. NOTE: If you miss a session, you will not be able to access the on-demand recording.
FEE: $20 for all 10 lecture sessions – NON-REFUNDABLE.
REGISTER TO JOIN LIVE SESSIONS
B. On-Demand Learning Track
This track offers a more immersive experience for participants who would like to enhance their knowledge of PD care. This track will include 10 modules that you have to complete in sequential order. Each module will include the video recording of the live session, additional reading materials, short reflection-based assignments, quizzes, and pre- and post-course tests. To receive continuing education credits, you have to complete the course by December 31, 2021.
Download schedule and continuing education information
FEE: $100 – Physicians; $75 – Other Health Care Professionals.
REGISTER TO JOIN ON-DEMAND TRACK
Registration Deadline: September 14, 2021
CANCEL/REFUND POLICY: Cancellations must be made in writing and sent by mail, fax, or email to the UNMC Center for Continuing Education. A refund of your registration fee, less $25 for processing, will be issued if request is received by September 15, 2021. No refund will be given after this date.
Questions?
Please contact Jackie Farley via email.
If you need assistance with online registration, please call our Registration Office at 402-559-5929.
Source: https://www.unmc.edu/cce/catalog/clinicmed/pd2021/index.html