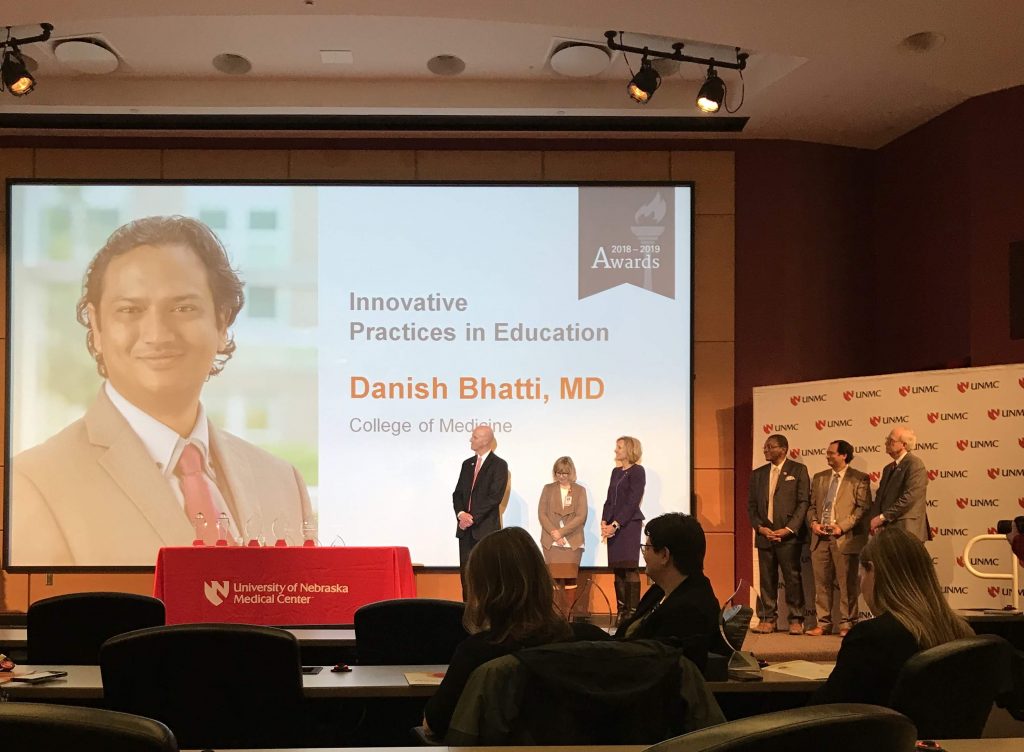 My father developed Lymphoma in 2014, the year I finished my Movement Disorders fellowship, joined University of Nebraska Medical Center as faculty and started visiting Pakistan. We only found it out a year later. He was delighted for my first visit back in July 2014, a visit after 5 years in US (busy in training and not risking visa status).
But as we planned visit, he asked me to visit the local institutions and teach; while I ruminated about get together, food fests, places to see and seeing my home. I did reach out to 3 universities without hearing back and finally he pulled it off and through his personal connections got me a meeting at DG Medicine at MH Rawalpindi (he hated asking favors).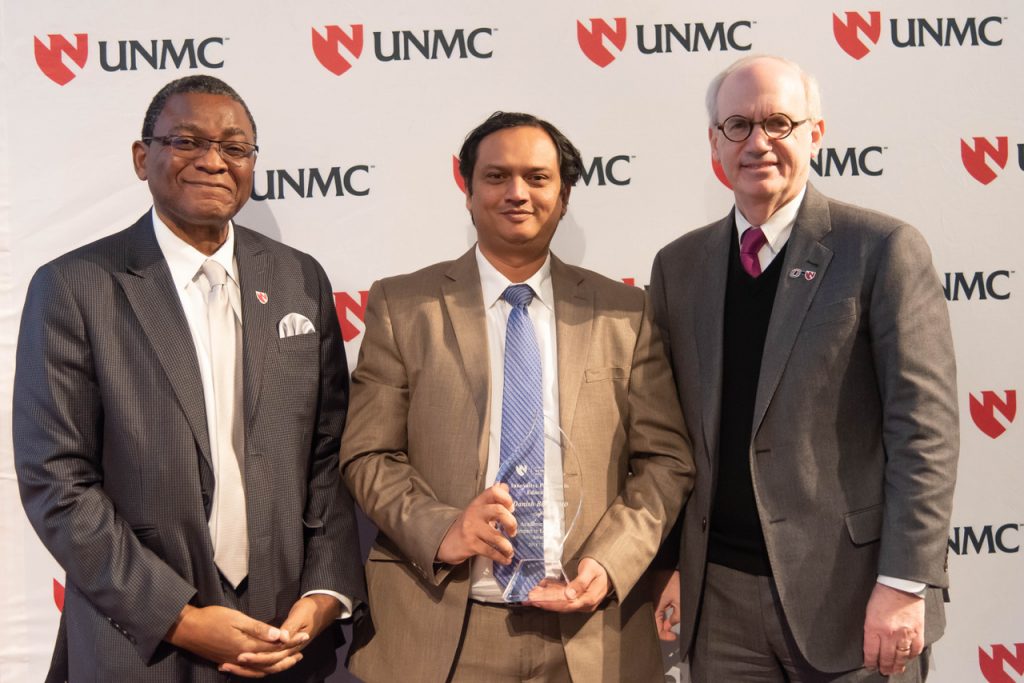 That was the start, one meeting that has led me to this crazy path; earning me International Best Teacher award by Pakistan Society of Neurology (PSN) in 2017 and a highly prestigious Campus wide, multi-college UNMC Impact in Education Award for Innovation in Education in 2018 for my work in Pakistan on developing a 6 months online Mini-fellowship in Movement Disorders – a certificate program from UNMC and PSN (39 neurologists trained so far). On the way I helped found the Movement Disorders Society of Pakistan (MDSP) in 2015, become international advisor to PSN and MDSP, Co-Chair of APPNA MERIT (Medical education committee for Association of Pakistani Physicians of North America) and design and/or direct multitude of short courses and workshops.
My father did not live to see all of that. He passed away January 2016, six days after my second daughter had her first birthday on Skype with Grandfather while he was in and out of ICU. I have been coming to Pakistan every 4 months ever since.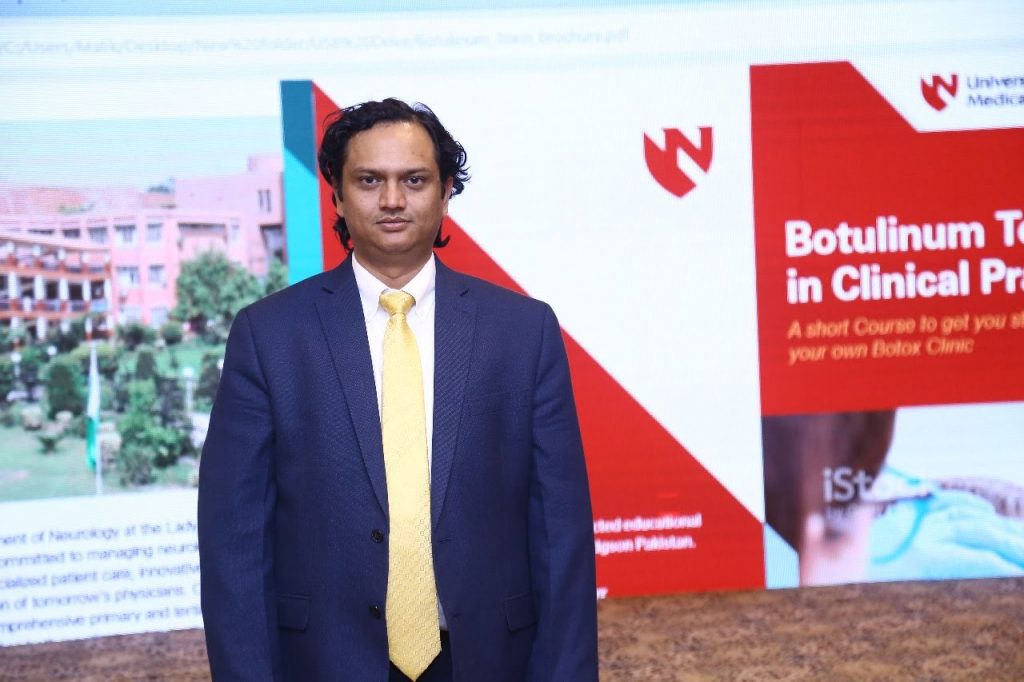 It has been a hard journey and uphill battle (both personally and professionally). I almost gave up after his death and rescind on my commitment to run a Botulinum toxin workshop in March 2016 at PSN annual meeting. I have been doubted by almost everyone and advised against it. I was advised I won't get promoted with this 'kind' of work. I had to bear the financial burden of travels and loss of revenue from days off. But most hurtful of all, I had to face the resistance and exploitation from professionals within Pakistan. I think memory of my father kept me going. My older daughter does remember the 'grandfather' vaguely and it's just hard to let that go.
"If you do not change directions, you may end up where you are heading". _Lao Tzu
Like many developing countries, Pakistan has good general medicine programs. The missing gap is the next step, the subspecialties, and they know that need exists. The solution had been for individual physicians to come to the U.S. or Europe to train and some would go back. But that change happens one person at a time. "If I train one person, what impact will that have in a nation of 200 million?"
I designed an online Mini Fellowship in Movement Disorders to fulfill the immense gap in Subspecialty trained neurologists in MDS in the developing world especially Pakistan. The course consists of 12 online modules and was successfully implemented nationally in Pakistan in 2017 & 2018 in collaboration with Pakistan Society of Neurology and Movement Disorders Society of Pakistan and we have attracted over 100 applicants and trained 30 Neurologist from 13 institutions. The course is currently on UNMC CANVAS Catalogue with an ongoing 3rd class of 9 Physicians from Pakistan.
This course includes theme-based bi-weekly online modules with formative quizzes, reading material, task-based assignments, podcasts, a curated discussion forum, and Twitter feed; as well as recorded lectures by MDS faculty. Each participant receives a weekly assessment and performance evaluation. A blinded assessment completed before and after the course (2017&2018) showed improvement in every participant (average 30%).
I have taught Neurologists in Pakistan, Abu Dhabi and Dubai, Qatar, Saudi Arabia, Afghanistan and USA. I am an avid twitter user, YouTube blogger and Facebook researcher. My YouTube video '5 min neurological examination' has over 1.3 million views and my medical education channel have over 1300 subscribers. I have just launched a patient education channel on Parkinson Disease with videos in URDU (MDC – Movement Disorders Clinic Pakistan).
I have often thought of settling back in Pakistan (and still do) but I am getting more and more convinced that I am far more effective in bringing about changes in Pakistan by visiting, advising, teaching and collaborating while staying at UNMC. Omaha is a small city in a mid-western state of Nebraska. It is New York or Miami but that has worked to my advantage. The peace and lack of distractions in Omaha has allowed me to grow and achieve a lot.
I have started to dislike biographies and biographical interviews. I still don't know why it's useful to know where someone was born or grew up. I have tried to share what I feel would be useful for you to give you ideas and insights that might work to your advantage. In the long run it doesn't matter why someone does something. What counts is what was done. We are all writing our life stories (building legacies), what would you like to see in yours.
There is a lot I can see and feel like saying but I will leave you with the best advise I have had so far. It's from the Ex-Vice chancellor of University of Nebraska that I had the pleasure to sit with during a mentoring dinner. (we highly under value mentoring and coaching in Pakistan, that's the best thing that can happen to anyone and is a must). Chancellor Maurer said "There are 3 things that are important in building Career. Relationships, Focus and Stunts". (I believe in that very order).
I have once prepared and given a talk at KEMU to medical students on Career advice (not USMLE advice). I will see if I can find and record the lecture and post it on youtube. You can find me on danishbatti.com and link to most of my channels and podcasts etc. Instead of boring everyone, I have enlisted my notable work below.
I graduated from KEMC in 2004, did USMLE in 2006-7 and after a prelim year in 2008, joined University of Nebraska Medical Center (UNMC) as a Neurology resident in 2009 followed by a 2-year fellowship in Movement Disorders at UNMC in 2012 before joining faculty in 2014 as Assistant Professor.
Notable work in Pakistan since 2015:
Quarterly Teaching clinic at shifa hospital since 2015
First National Movement Disorders Meeting (2015)
5 Botulinum Toxin hands-on Workshops (2015-2018)
Multiple presentations at national meetings for PSN and APPNA (2015-2018)
2-day Neurology Review course for General Practitioners (2018)
Acute Stroke Workshop (2018)
6-hour CME workshop in Pakistan with UNMC Continuing Education offering CME certificates
Visiting Professor by the Higher Education Commission of Pakistan to present and advise at the National University of Medical Sciences (2017)
Reviewer for 5 Pakistani Journals including JPMA
I have personally written over 200 questions in Movement Disorders for the residents and fellows and recorded over 40 lectures and over 100 hours of additional educational videos on various aspects distributed through CANVAS, YouTube channel, Microsoft Stream and iTunes Podcast.
Notable achievements:
Member of Interprofessional Academy of Educators (IAE) 2019
I lead leadership training program at UNMC for 2019-20.
Chair of Residents Curriculum Committee,
Innovative blended 'Movement Disorders Course' for the residents in CANVAS.
12 Research papers in the last 3 years
26 abstracts in the last 3 years.
4 book chapters in two textbooks including "Ferris' Clinical Advisor" and "Taylor's Handbook for Family Medicine".
Member advisory committee for Nebraska Parkinson disease State Registry