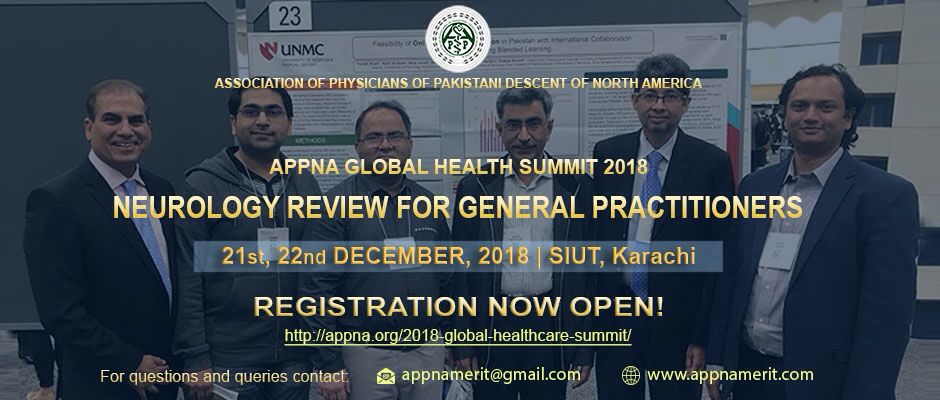 For Registration please visit:
http://appna.org/2018-global-healthcare-summit/
A Practical Everyday Neurology, Hands-on Review for Bedside practice.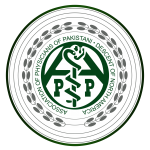 A collaboration between:
APPNA MERIT Committee
Pakistan International NeuroScience Society (PINS)
Pakistan Society of Neurology (PSN)
Course Directors:
International: Drs Danish Bhatti and Shahid Rafiq
National:Drs Athar Javed and Sarwar Siddiqui
Course Introduction: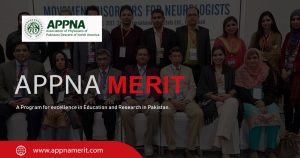 Up to 10% of patients seen by family practitioners present with neurologic symptoms. Only 16% are ever evaluated by neurologists in US and is likely even less, given significant lack of Neurologist in Pakistan (130-160 nationwide). Practicing physicians require a firm understanding of the general principles of clinical neurology.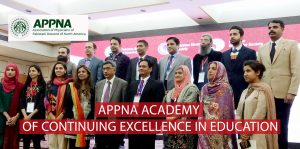 Goals and Objectives:
To teach the principles and skills underlying the recognition and management of the common neurologic diseases a general medical practitioner is most likely to encounter in practice.
Ability to recognize symptoms, localize the likely sites, formulate a differential diagnosis, awareness of use and interpretation of common tests, and appropriate neurological consultations.
The course will also provide two practical workshops on Management of Acute stroke and common uses of botulinum toxin (BOTOX(r)) in General Practice.
Target Audience:
Primary audience: Primary care physicians (Internal medicine and Family practice)
Post Graduate Trainees in non-neurology programs (e.g. internal medicine or general surgery etc)
Secondary audience: Neurology trainees, ALL medical students, house officers, medical officers, sub-specialists non-neurologists (eg cardiologist, nephrologists etc), Ancillary care providers (therapists and rehab specialists etc), Nurses and case managers
Course Faculty:
Prof Ashfaq Shuaib, MD, FRCPC, FAHA
Professor, Department of Medicine
Director, Stroke Program
University of Alberta, Edmonton AB Canada
Prof. Arsalan Ahmad MD
President Movement Disorders Society of Pakistan
Professor and Consultant Neurologist,
Shifa Tanveer-e-Millat University, Islamabad
Prof Athar Javaid, MBBS
President Pakistan Society of Neurology
Professor and Chairman
King Edwards Medical University Lahore, Pakistan
Danish Bhatti, MD
Co-Director Comprehensive Parkinson Disease Clinic
Director, International Neurology Program
Associate Program Director, Movement Disorders Fellowship
University of Nebraska Medical Center (UNMC)
Ismail A. Khatri, MD, FAAN
Associate Professor of Neurology – Joint Appointment
King Saud bin Abdulaziz University for Health Sciences
King Abdulaziz Medical City National Guard Health Affairs
Kingdom of Saudi Arabia
Mustafa Saad Siddiqui, MD, FAAN
Co-Chair of Functional Neurosurgery Group of Parkinson's disease Study Group
Associate Professor of Neurology & Neurosurgery
Medical Director of Deep Brain Stimulation (DBS) program
Wake Forest School of Medicine North Carolina, USA
Muhammad Taimoor Khan, MD
Diplomat American Board of Psychiatry and Neurology
Clinical Assistant Professor
West Virginia University
Zeba Fatima Vanek, MD, DCN, MBBS
Kaiser Permanente
Napa Solano, CA
Emeritus Associate Professor Neurology,
UCLA, California
Venue:
Dec 21-22 2018
Dewan Farooq Medical Complex (DFMC) Sindh Institute of Urology and Transplantation (SIUT),Sardar Yaqoob Ali Khan Road, Karachi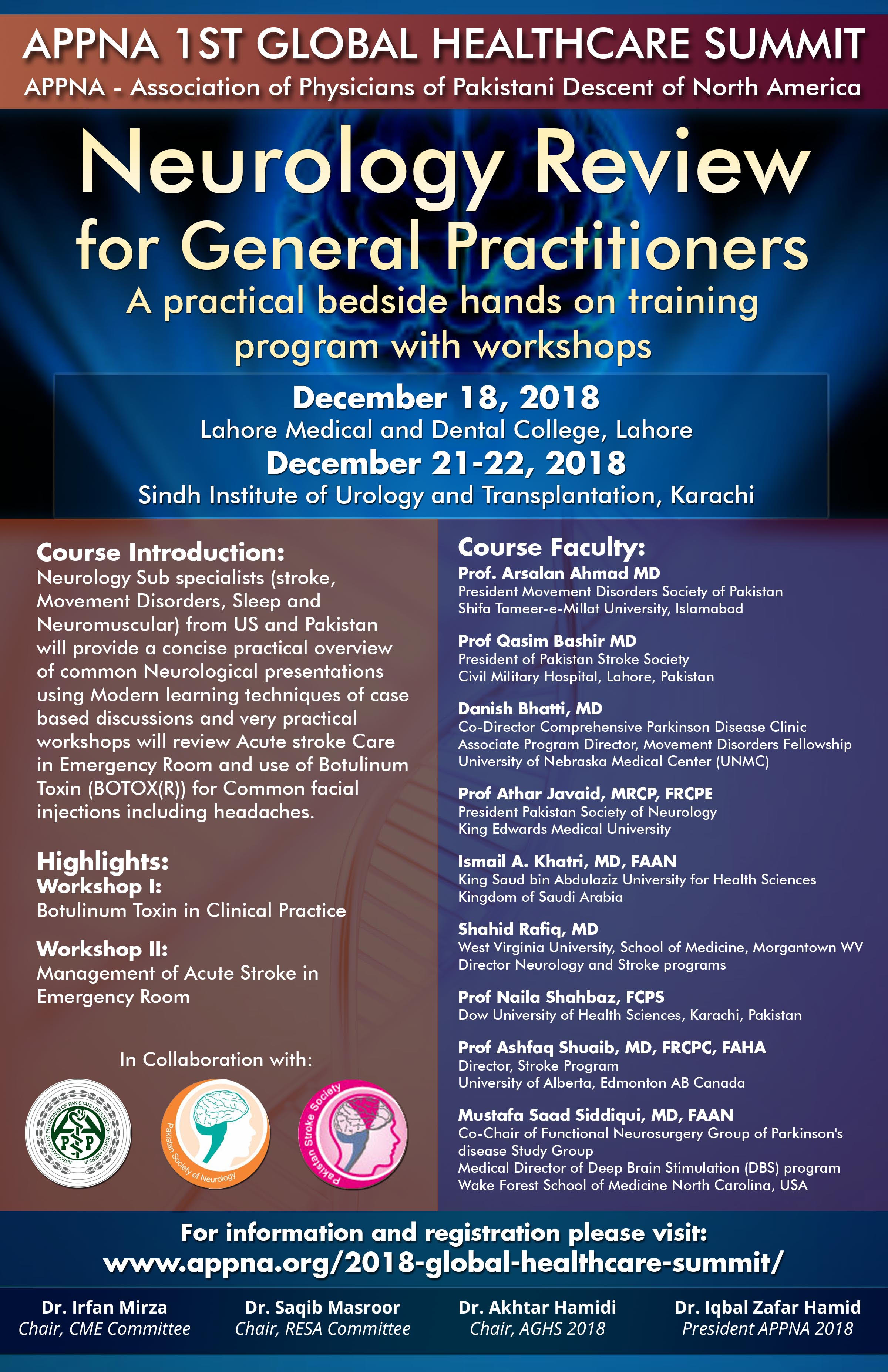 Management of Acute Stroke in Emergency Room: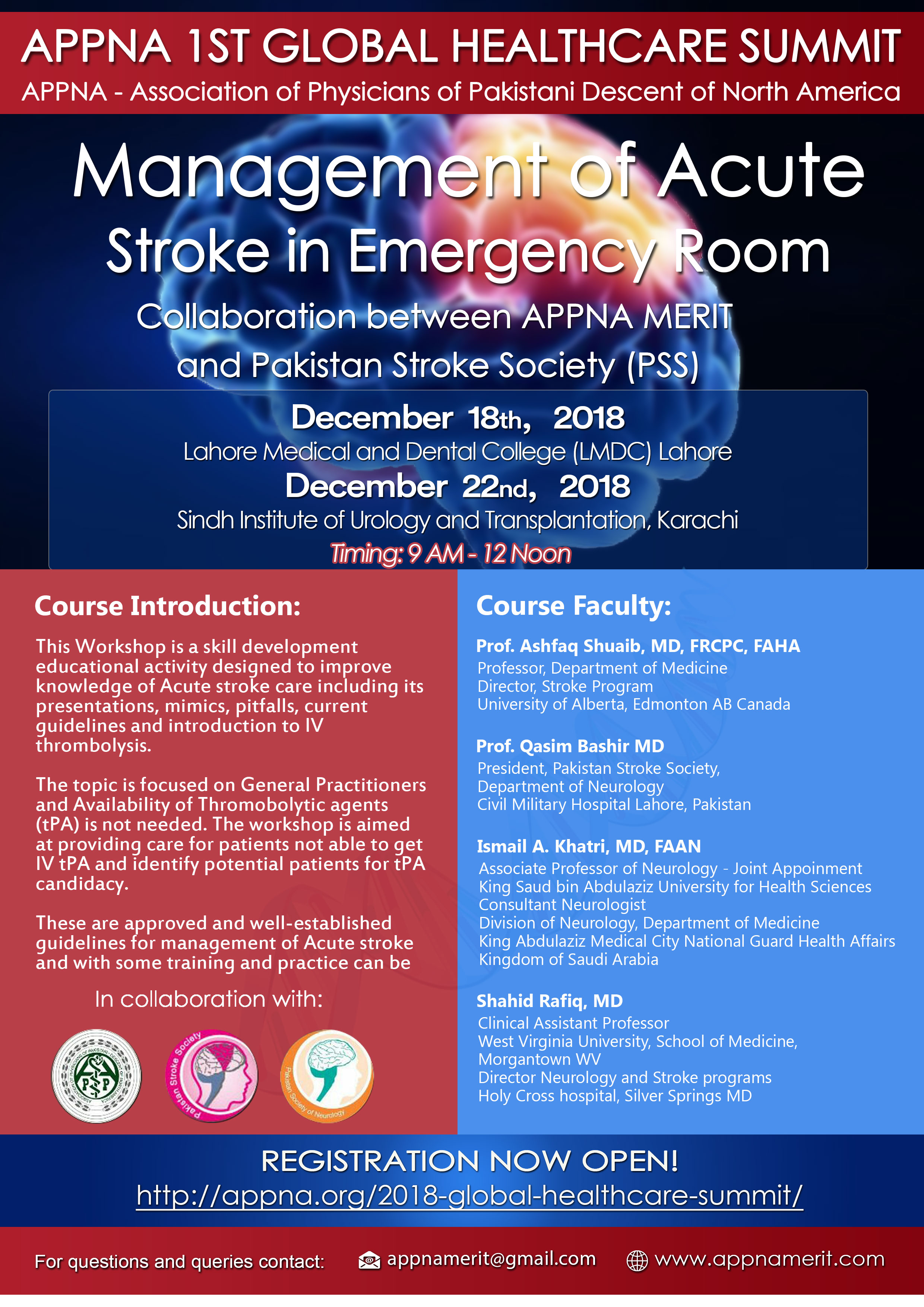 Botulinum Toxin in Clinical Practice: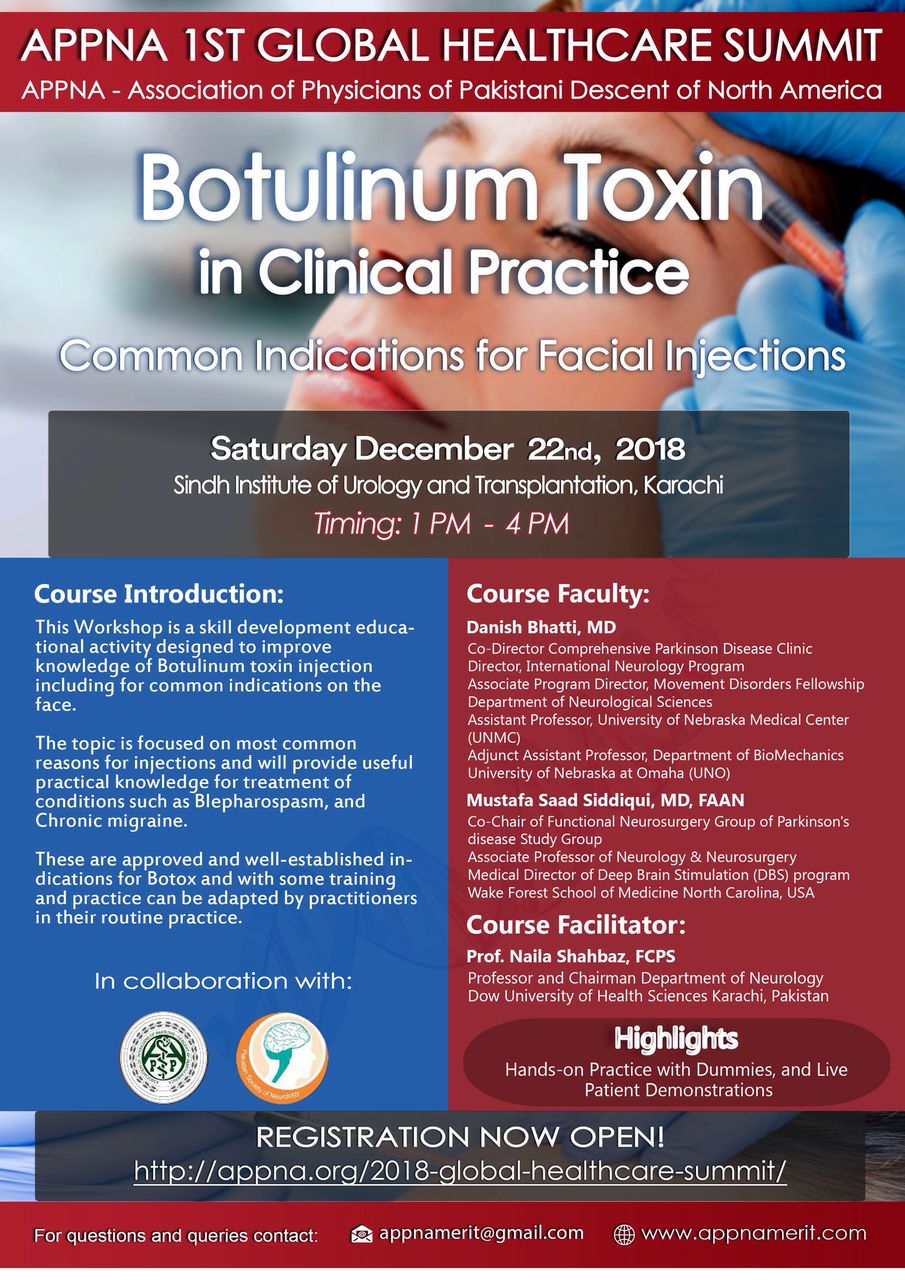 For Registration please visit: